Indulge in the rich, wholesome flavors of these Oatmeal Raisin Cookies. Crafted to perfection, these cookies boast a delightful fusion of oats and raisins, giving them a chewy interior beneath a crisply baked exterior. With a hint of cinnamon and the natural sweetness of maple syrup, every bite delivers a warm, comforting sensation. Moreover, this recipe is vegan-friendly, ensuring a guilt-free experience for all. Whether you're a die-hard vegan or simply looking for a healthier treat, these cookies promise to be a recurring favorite in your household.
Oatmeal Raisin Cookie Ingredients
½ cup vegan butter, melted (use regular butter for non-vegan version)
2 tablespoon flaxseed meal + 4 tablespoon warm water

(or substitute with ¼ cup applesauce or 1 regular egg)

½ cup coconut sugar or cane sugar
¼ cup pure maple syrup
1 tablespoon unsweetened almond milk (or any preferred milk)
1 teaspoon vanilla extract
½ teaspoon ground cinnamon
½ teaspoon baking powder
¼ teaspoon salt
1 cup all-purpose flour (gluten-free flour like King Arthur's Measure for Measure can be used)
1 ½ cups quick oats
⅓ cup raisins
Making The Flax Eggs
Flax eggs are a common vegan substitute for regular eggs in vegan baking. They are also loaded with fiber and omega 3s making them a healthier alternative to eggs. Here's how to make the Flaxseed Meal Mixture: In a small bowl, combine the flaxseed meal with warm water and let it sit for 5 minutes to thicken.
How To Make Oatmeal Raisin Cookies
Wet Ingredients: In a large bowl, combine melted vegan butter, flaxseed mixture (or chosen substitute), sugar, maple syrup, almond milk, and vanilla. Mix until well combined.
Dry Ingredients: To the same bowl, add cinnamon, baking powder, salt, flour, and quick oats. Stir until a cohesive dough forms. Gently fold in raisins.
Preheat & Prepare: Set your oven to 375°F (190°C) and line a baking sheet with parchment paper.
Shape Cookies: Using a tablespoon, scoop out the dough and shape into balls. Place them on the baking sheet and flatten slightly to form cookies that are approximately ⅓ inch thick. You should end up with around 24 cookies.
Bake: Place in the preheated oven and bake for 13-15 minutes or until the bottoms are lightly golden. Let them cool slightly before serving. Enjoy warm for the best experience!
Expert Tips
Flaxseed Meal as an Egg Substitute: The flaxseed meal and water mixture acts as an egg substitute. It provides binding to the cookies. If you choose to use applesauce or a regular egg instead, the texture of your cookies might vary slightly.
Sugar Choices: Coconut sugar tends to have a caramel-like flavor, whereas cane sugar is more neutral. Both are excellent choices, but depending on what you choose, there might be a slight difference in taste.
Oat Choice: The recipe calls for quick oats which will give a softer texture. If you opt for old-fashioned rolled oats, you'll get a chewier texture.
Raisin Tip: If your raisins are a bit dry or hard, consider soaking them in warm water for about 10 minutes, then drain and pat dry. This will make them plumper and juicier in your cookies.
Cookie Size: The recipe makes cookies that are roughly ⅓ inch thick. If you choose to make them thicker or thinner, it may affect baking time, so keep an eye on them.
Storing: These cookies can be stored in an airtight container at room temperature for up to a week. You can also freeze them for longer storage. If freezing, lay them out on a baking sheet to freeze individually first, then transfer to a zip-lock bag or container. This prevents them from sticking together.
Customize: Feel free to add in nuts like walnuts or pecans, or even vegan chocolate chips if desired!
Frequently Asked Questions
How do I store leftover oatmeal raisin cookies?
Cool Fully: Let cookies reach room temperature to avoid sogginess.
Airtight Container: Use this for storage to maintain freshness.
Room Storage: Keep at room temperature for up to a week.
Refrigerate: For extended freshness up to two weeks, but may alter texture slightly.
Freeze: Lay cookies on a baking sheet to freeze, then transfer to airtight bags. Thaw at room temperature when ready to eat.
Refresh: If stale, warm in a 300°F oven for 5-7 minutes to revive.
Can I substitute the flax egg for a regular egg in this recipe?
Yes, you can substitute the flax egg for a regular egg in the oatmeal raisin cookie recipe you provided.

The flax egg mixture (2 tablespoon flaxseed meal + 4 tablespoon warm water) can be replaced with 1 regular egg. When using a regular egg, you can simply add it in the step where you'd add the flax egg mixture, ensuring you mix it well with the other wet ingredients.

Remember that introducing a regular egg will make the recipe non-vegan. The texture of the cookie might also be slightly different, but it should still yield a delicious result.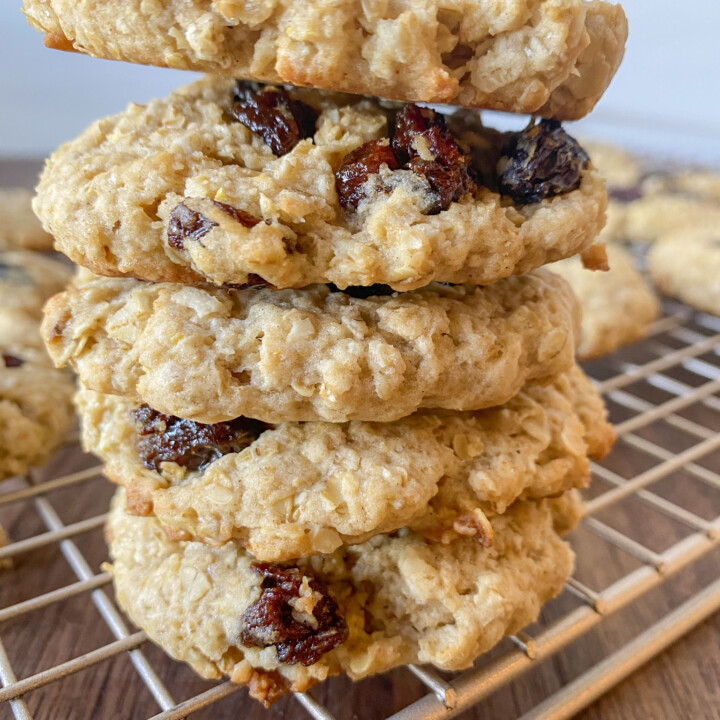 Oatmeal Raisin Cookies
Soft, chewy, and loaded with oats and raisins - These are the perfect oatmeal raisin cookie! They're golden on the outside and super moist on the inside! They're low on sugar, healthy, easy to make, and super filling! This is a family-friendly vegan cookie that you'll want to make over and over again!
Ingredients
Oatmeal Raisin Cookies
½

cup

melted vegan butter

regular butter will work if not vegan

2

tablespoon

flax seed meal + 4 tablespoon warm water

swap with ¼ cup applesauce or 1 regular egg

½

cup

coconut or cane sugar

¼

cup

maple syrup

1

tablespoon

unsweetened almond or oat milk

regular milk will work if not vegan

1

teaspoon

vanilla

½

teaspoon

cinnamon

½

teaspoon

baking powder

¼

teaspoon

salt

1

cup

regular or gluten free all purpose flour

If gluten-free, I recommend King Arthur Measure for Measure gluten-free flour. Please don't substitute any other flour such as almond flour, baking flour, etc.

1 ½

cup

quick oats

⅓

cup

raisins
Instructions
Oatmeal Raisin Cookies
Preheat the oven to 375. Prepare the flax seed meal mixture by mixing 2 tablespoon of flax seed meal with 4 tablespoon of warm water. Set aside.

In a large bowl, mix the melted vegan butter, flax seed meal, sugar, maple syrup, almond milk, vanilla, cinnamon, baking powder, and salt. Then, add the flour and quick oats and mix until a cookie dough forms. Fold in the raisins.

Prepare a baking sheet with parchment paper and use a tablespoon to scoop a heaping scoop of the batter. Use your hands to form the batter into balls, place them onto the baking sheet, and then press down on them to make them into round cookie shapes about ⅓ inch thick. You should have about 24 cookies.

Bake for 13-15 minutes until the cookies are lightly golden on the bottoms. Serve warm!
Nutrition
Serving:
1
cookie
Calories:
98
kcal
Carbohydrates:
15
g
Protein:
1
g
Fat:
4
g
Saturated Fat:
1
g
Polyunsaturated Fat:
1
g
Monounsaturated Fat:
1
g
Sodium:
66
mg
Potassium:
49
mg
Fiber:
1
g
Sugar:
6
g
Vitamin A:
180
IU
Vitamin C:
0.1
mg
Calcium:
18
mg
Iron:
1
mg