Dive into autumn with our Easy Vegan Pumpkin Pie. This simple and quick classic captures the heartwarming flavors of traditional pumpkin pie, minus the dairy and eggs. Crafted with rich pumpkin puree, a blend of aromatic spices, and a flaky, melt-in-your-mouth crust, this pie promises a luscious and creamy filling in every bite. Perfect for those seeking a plant-based twist without compromising on taste or texture. This recipe is so simple and everyone will love it!
Whether it's for Thanksgiving, a weekend dessert, or a cozy fall evening treat, this Vegan Pumpkin Pie is the deliciously guilt-free choice for all. Indulge and let each slice transport you to a golden autumn day, filled with crunchy leaves and the sweet scent of harvest.
Easy Vegan Pumpkin Pie Ingredients
Equipment You'll Need:
Standard pie dish
Two large mixing bowls
Standard measuring cups & spoons
Rolling pin (essential for the perfect crust)
Essential utensils: spoon & whisk
Recipe Ingredients:
For the Perfect Vegan Pie Crust:
½ cup plant-based milk (options: almond or oat)
¼ cup melted vegan butter or organic coconut oil
2 tablespoon pure maple syrup
1 ½ teaspoon baking powder
2 to 2 ½ cups flour (choices: traditional all-purpose or gluten-free all purpose - for gluten-free, we like King Arthur Measure for Measure)
2 tablespoon vegan yogurt
For the Creamy Vegan Pumpkin Pie Filling:
1 can (15 oz) organic pumpkin puree (approximately 1 ½ cups)
⅓ cup light brown sugar
½ cup coconut sugar (or substitute with standard cane sugar)
1 teaspoon pure vanilla extract
1 teaspoon ground cinnamon
2 teaspoon pumpkin pie spice blend
½ cup coconut milk
2 tablespoon cornstarch
A dash of sea salt
For the Finishing Touch:
How to Make The Best Vegan Pumpkin Pie
Crust Prep: Preheat your oven to 350°F. Kickstart the process by crafting the vegan pie crust. Blend oat or almond milk, vegan butter, maple syrup, and baking powder in a mixing bowl. Gradually add flour, and when combined, infuse with vegan yogurt. Stir until the dough turns elastic and slightly sticky.
Roll & Set the Crust: Flour your countertop, rolling out half the dough to around ¼ to ⅓ inch thickness. (Tip: Retain the remaining dough in the refrigerator for subsequent use.) Fit the rolled dough into your pie dish, shaping the edges for a decorative touch or maintaining a rustic appearance.
Filling Preparation: Using a different bowl, whisk together the pumpkin puree, sugars, vanilla, spices, coconut milk, cornstarch, and salt until smooth.
Assemble & Bake: Pour your creamy filling into the prepared crust. If going for a rustic look, gently fold overhanging crust edges over the filling. Bake for roughly 60 minutes, looking for a golden hue and cracks on the surface to signal its readiness. Allow the pie to solidify for at least two hours. Serve each slice with a dollop of vegan whipped cream.
Frequently Asked Questions
How do I store leftover vegan pumpkin pie?
We recommend storing the pumpkin pie in a sealed container at room temperature for 3-5 days. Freeze for longer storage.
Can I make this vegan pumpkin pie in advanced?
Yes! I actually prefer to make this vegan pumpkin pie the day before serving so it has plenty of time to rest and set and so that the flavors merge together.
Do you have a vegan pecan pie recipe?
Absolutely! Click here for the recipe!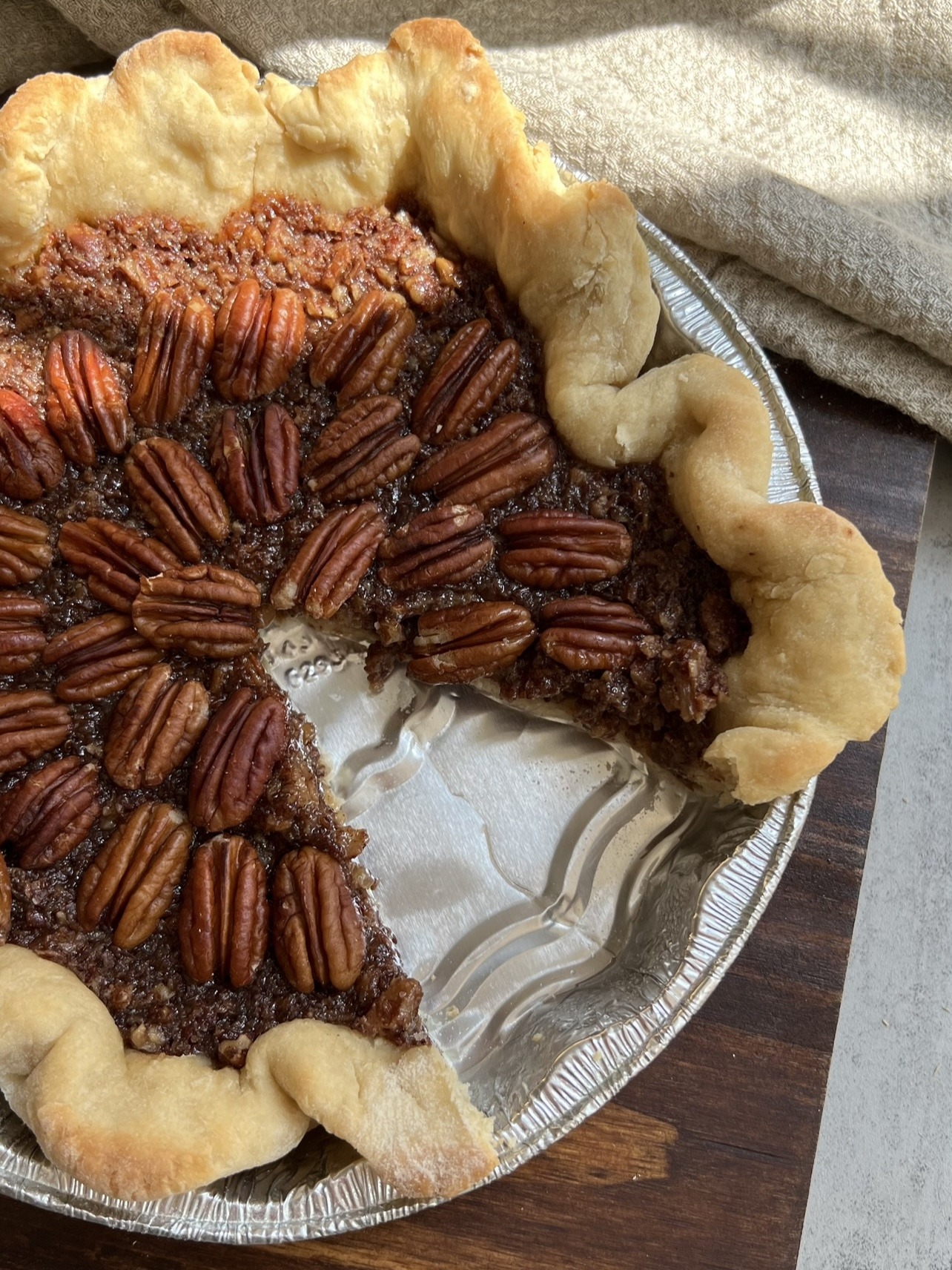 Easy Vegan Pumpkin Pie
Elevate your dessert game with our Easy Vegan Pumpkin Pie, where traditional warmth meets plant-based perfection. Infused with a velvety pumpkin filling and seasoned with nature's finest spices, each slice offers a symphony of flavors encased in a tender, flaky crust. This recipe is so quick and easy to make. Ideal for celebrations, this pie ensures that everyone, regardless of dietary choices, can enjoy the nostalgic flavors of the season.
Equipment
pie dish

two large mixing bowls

measuring cups

measuring spoons

rolling pin (for rolling crust)

spoon and whisk for mixing
Ingredients
Easy Vegan Pumpkin Pie Crust
½

cup

almond or oat milk

¼

cup

melted vegan butter or coconut oil

2

tablespoon

maple syrup

1 ½

teaspoon

baking powder

2

cup

regular all purpose flour or 2 cups of gluten-free all purpose flour

2

tablespoon

non-dairy yogurt
Easy Vegan Pumpkin Pie Filling
1

can

pumpkin puree

15 oz can (about 1 ½ cups)

⅓

cup

light brown sugar

½

cup

coconut sugar or regular cane sugar

1

teaspoon

vanilla extract

1

teaspoon

cinnamon

2

teaspoon

pumpkin pie spice

½

cup

coconut milk

2

tablespoon

cornstarch

a pinch of salt
Instructions
Easy Vegan Pumpkin Pie Instructions
Preheat the oven to 350. Begin by making the vegan pumpkin pie crust. In a large mixing bowl, mix the oat or almond milk, melted vegan butter, maple syrup, and baking powder together. Add the flour and mix. Once combined, add the non-dairy yogurt and mix until an elastic and sticky dough is formed.

Flour a clean surface and place half of the crust onto the surface. Store the other half in the fridge for up to 3-5 days or freeze for a later use. Use a floured rolling pin to roll the crust until it's about ¼ to ⅓ inch thick. Place the crust into a pie dish and use your fingers and pinch the edges of the crust dough to make a wavy shape around the dish or leave it loose to make it more rustic. Set aside.

In a separate large mixing bowl, add the canned pumpkin puree, brown sugar, coconut sugar, vanilla, cinnamon, pumpkin pie spices, coconut milk, cornstarch, and a pinch of salt. Mix well until creamy. Pour the pumpkin pie filling into the crust. If you left your crust loose and didn't make waves, loosely fold the crust over the pie.

Bake the vegan pumpkin pie in the oven for about an hour. You will know it's done when the top begins to crack and it's golden brown.

Remove the vegan pumpkin pie from the oven and allow it to set for at least two hours before serving. Serve each slice topped with vegan whipped cream.
Nutrition
Serving:
1
slice
Calories:
227
kcal
Carbohydrates:
40
g
Protein:
2
g
Fat:
7
g
Saturated Fat:
4
g
Polyunsaturated Fat:
0.3
g
Monounsaturated Fat:
1
g
Cholesterol:
11
mg
Sodium:
117
mg
Potassium:
139
mg
Fiber:
2
g
Sugar:
14
g
Vitamin A:
5635
IU
Vitamin C:
2
mg
Calcium:
73
mg
Iron:
1
mg