These one-bowl Vegan Pumpkin Muffins are as easy to make as they are delicious. If you're craving something pumpkin-spiced, you must give this vegan and gluten-free friendly recipe a try! The muffins are golden on the outside, fluffy in the center, and flavored with cinnamon, nutmeg, ground ginger, and cloves. Everyone will love this autumn breakfast treat or snack and this is one of the easiest muffin recipes you'll ever make!
Ingredients
Plant-based Milk: To keep this pumpkin muffin recipe vegan, we use plain unsweetened almond or oat milk. If you are not vegan or dairy-free, feel free to use regular miIk.
Pumpkin Puree: We use canned pumpkin puree in these vegan pumpkin muffins to give them that soft moist texture and pumpkin flavor.
Vegan Butter: To keep this recipe vegan, use vegan butter. If you are not vegan or dairy-free, feel free to use regular butter.
Sugar: We use organic cane or coconut sugar to sweeten these pumpkin muffins.
Maple Syrup: To add a warm maple flavor, we use maple syrup;
Baking Powder and Baking Soda: Helps give the muffins a fluffy texture.
Vanilla: For a warm fall flavor.
Pumpkin Pie Spices: In this easy muffin recipe, we use pumpkin pie spices such as cinnamon, ground ginger, cloves, and nutmeg. Feel free to use store-bought pumpkin pie spices as well.
Flour: Use regular all purpose flour in this recipe. If you are gluten free and want tom make gluten-free pumpkin muffins, use gluten-free all purpose flour such as King Arthur Measure for Measure.
How To Make Vegan Pumpkin Muffins
Step 1: Preheat the oven and line 16 muffin tins with paper muffin liners. You can also spray a muffin pan with non-stick baking spray if you don't have paper liners.
Step 2: Mix the homemade pumpkin muffin batter together. Start with the wet ingredients and then add the dry. Spoon the muffin batter into the muffin wells and option to sprinkle granulated sugar on top.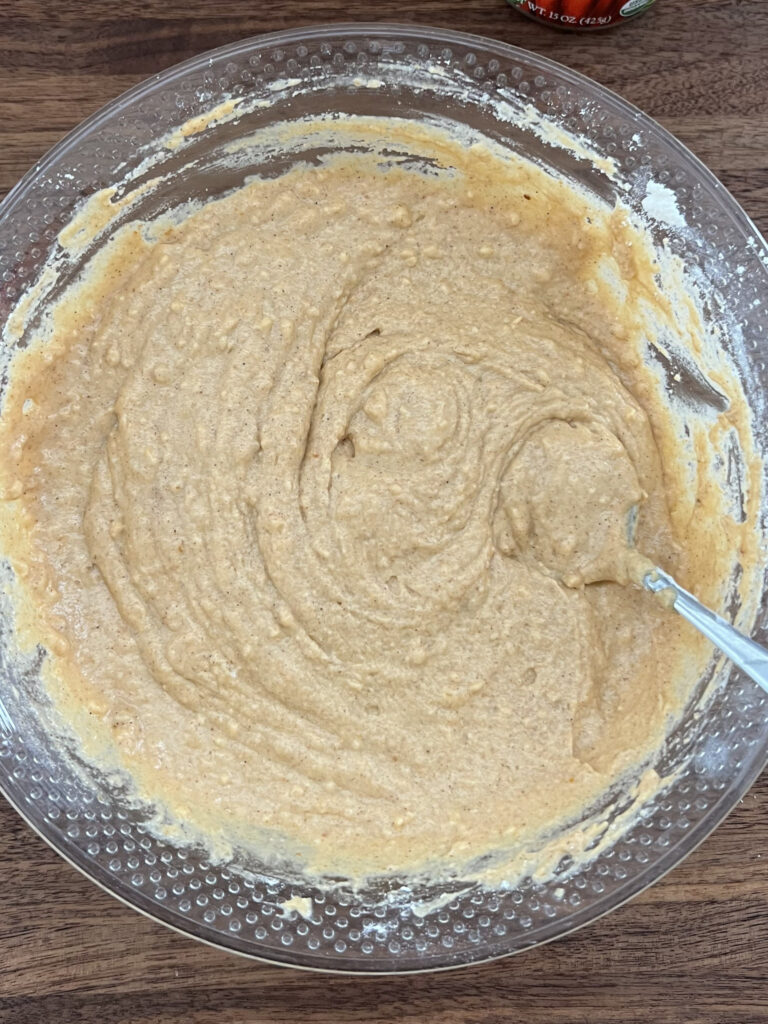 Step 3: Bake the pumpkin muffins in the oven until golden and completely risen. Then, option to allow them to cool completely before serving or serve them warm.
How To Store Leftover Muffins
Muffins are best stored at room temperature in an airtight container for 3-5 days. For longer storage, I recommend freezing. Refrigerating baked goods can cause them to become dry. To freeze, place them in an airtight container or freezer safe bag. Freeze for up to 3 months. Let them thaw in the fridge overnight and warm them in the oven to serve.
Frequently Asked Questions
Can I use canned pumpkin puree?
Absolutely! Just be sure to use 100% pumpkin puree and not pumpkin pie filling.
Are pumpkin muffins healthy?
Healthy is subjective and means something different to everyone, but the ingredients in this pumpkin muffin recipe are mostly wholesome and simple. In addition, pumpkin is filled with vitamins and minerals including: fiber, vitamin A and C, potassium, copper, manganese, iron, B vitamins, and vitamin E. They are also higher in antioxidants.
More Muffin Recipes To Try
30-Minute Vegan Pumpkin Muffins
These vegan pumpkin muffins are as easy to bake as they are moist, fluffy, and delicious! This is a family-friendly fall time treat!
Ingredients
30-Minute Vegan Pumpkin Muffins
1

cup

unsweetened oat or almond milk

1

cup

pumpkin puree

⅓

cup

melted vegan butter

½

cup

coconut sugar or cane sugar

½

cup

maple syrup

1 ½

teaspoon

baking powder

1

teaspoon

baking soda

1

teaspoon

vanilla

1

teaspoon

cinnamon

¼

teaspoon

nutmeg

¼

teaspoon

cloves

¼

teaspoon

ginger

2

cup

regular or gluten-free all purpose flour

If gluten-free, I recommend King Arthur Measure for Measure gluten-free flour. Please don't substitute any other flour such as almond flour, baking flour, etc.

sugar for topping
Instructions
30-Minute Vegan Pumpkin Muffins
Preheat the oven to 350

Mix the oat or almond milk, pumpkin puree, melted vegan butter, maple syrup, sugar or purecane, baking powder, baking soda, vanilla, and spices together. Then, add the flour and mix just until a smooth batter forms. Be careful not to over mix the batter or the muffins will become dense.

Spoon the batter into 16 lined muffin wells. I like to lightly spray my liners with nonstick spray so the muffins don't stick to the liner. Bake in the oven for 25-30 minutes. While they're still warm, option to sprinkle the tops with a little crystalized sugar and serve.
Nutrition
Serving:
1
Calories:
134
kcal
Carbohydrates:
25
g
Protein:
2
g
Fat:
3
g
The recipes on Peanut Butter and Jilly can easily be adapted to fit a vegan lifestyle, a gluten-free lifestyle, or both depending on the ingredients you use. Please review the ingredients lists carefully and refer to our recommendations in the Notes of the recipe card to make this recipe compatible with your needs. Nutrition information provided is an estimate, and will vary based on specific brands of ingredients used and cooking methods.